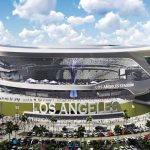 NFL returns to the City of Angels
Los Angeles is one of the United States' most recognizable and populated areas. Home to two NBA, two MLB, one MLS, and one NHL franchise, not to mention the fervent rivalry between local university athletic programs UCLA and USC, it's safe to say that L.A. is a great sports city. However, since 1994, LA has lacked professional football. This is changing in a big way; starting this upcoming 2017 NFL season, the Chargers will join the newly relocated Los Angeles Rams to bring two NFL franchises to the greater Los Angeles Area. The Bolts were founded in Los Angeles in 1960 before heading south to San Diego the following season.
Filling the Stadiums
Will Los Angeles be able to support not one, but two football franchises? Last season, the Rams were welcomed back with open arms, selling out 70,000 season tickets and drawing a crowd of over 91,000 to their season opener at the Los Angeles Memorial Coliseum. The Rams' evaluation jumped from $1.45B to $2.9B after moving, good for 3rd highest in the NFL behind the Cowboys and Patriots. The Los Angeles Chargers will move into the StubHub Center, home of the LA Galaxy. At a capacity of 30,000, it is well below the NFL's required minimum of 50,000. However, this location is temporary, as both the Rams and Chargers will move into the Los Angeles Stadium at Hollywood Park, which is currently under construction in Inglewood, for the 2020 NFL season. 
Los Angeles Stadium Quick Facts
298 acres, 3.5 times the size of Disneyland

Expected to hold 70,240 seats, plus 25,000 in standing room only tickets behind end zones

260 luxury suites, 7 different varieties

Joins MetLife Stadium (home of the NY Giants   and NY Jets) as the only stadiums that are shared by two NFL franchises

Privately funded, expected cost of $2.6B is over $1 billion more than next most costly stadium in the world (MetLife)

Will host Super Bowl LVI in 2022

19-acre transparent canopy to cover stadium
In addition to battling for and receiving NFL franchises, Los Angeles will host the summer Olympics in 2028. The Los Angeles Stadium is expected to host the Opening Ceremony, soccer, and archery events.
Though the stadium is several years from being completed, the first 125 luxury suites have already been marketed to potential leaseholders. If you simply cannot wait, you can purchase a suite for the Los Angeles Rams at Memorial Coliseum or the Los Angeles Chargers at the StubHub Center with Suite Experience Group today.