Best Bang For Your Buck At AT&T Stadium
There's no sugar-coating it, Dallas Cowboys suites are one of the most expensive ways to entertain a large group at AT&T Stadium. But for companies looking to conduct business or reward their clients a suite at a Cowboys game can be well worth the price as it fosters unforgettable memories and solidifies relationships.
Are you looking to get the best value on a Cowboys suite?  This article details all the suite options available at AT&T Stadium and provides recommendations on which suite to choose to meet your group's needs.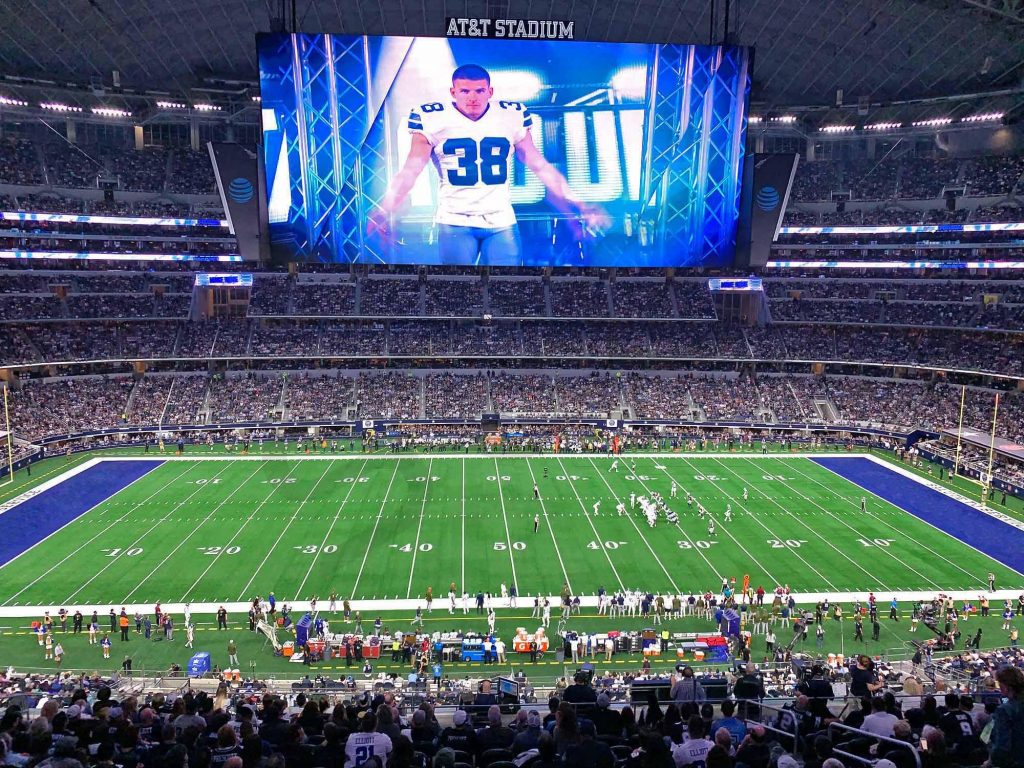 There are five levels of suites at AT&T Stadium. From closest to the field to the highest up: you have the Field Level being the lowest, the Hall of Fame(200 Level), Silver(400 Level), Ring of Honor(500 Level) and Star(600 Level).
In Suite Experience Group's 11 years of selling suites at AT&T Stadium, we find that the Silver Level consistently delivers the best value to customers looking to blend a great view of the field while staying within a mid-range suite budget.  The highest in-demand suites are the Hall of Fame suites, however, Cowboys suites on the Hall of Fame Level are above most budgets. The next level up will be the Silver Suites. Most AT&T Stadium suites are similar in space and layouts. The Silver Level suites will have a private restroom, comfortable balcony seating, a full kitchen, wet bar and lounge space inside the suite. Silver Suites on average are about $5,000 – $10,000 less expensive than a Hall of Fame suite. Guests on the Silver Level are at eye level with the jumbo screen over the field and have a perfect non-obstructed view to the entire game. All Silver Suite ticketholders have exclusive access to the Silver Club, Main Club and the 4 VIP suite entrances into AT&T Stadium.
Field, Ring of Honor and Star suites will typically be less expensive than the suites on the Silver Level. Field Level provide a once-in-a-lifetime experience but at the cost of having an obstructed view to the game. If you're really looking for that "wow factor" of being as close as possible to the action, choose at Field Suite.  Ring of Honor suites are directly above the Silver Level but with the cost of these usually only being $1,000 – $2,000 less than a Silver Suite, our clients prefer to be closer to the field.  Star suites are directly above the Ring of Honor, so being that high up is not always preferred. However, every suite is designed with first-class amenities in mind. So, despite the cost, you're getting an amazing suite regardless of where you are in the stadium.
To view pricing on Silver Suites or any Cowboys suite, please see our AT&T Stadium Suite Pricing by game.
Experience A Dallas Cowboys Field Level Suite
Looking for a "WOW" factor experience at AT&T Stadium? Look no further than a Dallas Cowboys Field Suite. Being at field level, right behind the players, is like no other luxury suite in the stadium or perhaps, the entire NFL. Cowboys Field Suites put you so close to the field that you can touch it! Here is why you should consider a luxury suite at field level for your next event…
Guests down at field level have exclusive access to two private clubs: The Miller Lite Club and The Draft Kings Fantasy Sports Lounge. Each club features premium bars, TVs with surround sound systems and amazing views from the sideline. Perhaps the biggest memory from your experience will be when the Dallas Cowboys enter the field from their locker room directly through The Miller Lite Club. Fans will have the chance to high-five their favorite player. The visiting team will do the same through The Draft Kings Fantasy Sports Lounge. Both clubs are available to Field and Touchdown Suite ticketholders throughout the game.
Since seating is limited to stools inside a Field Suite, some suites offer fans reserved seats directly above them. This allows guests the chance to see a Cowboys game from multiple vantage points. The giant video screen hanging over the field is visible from the suites and if that is not enough, there are 4 HDTVs inside the suite as well. Other top amenities you can find in a Field Suite include a private restroom, full kitchenette, wet bar, and a drink rail facing the field.
Th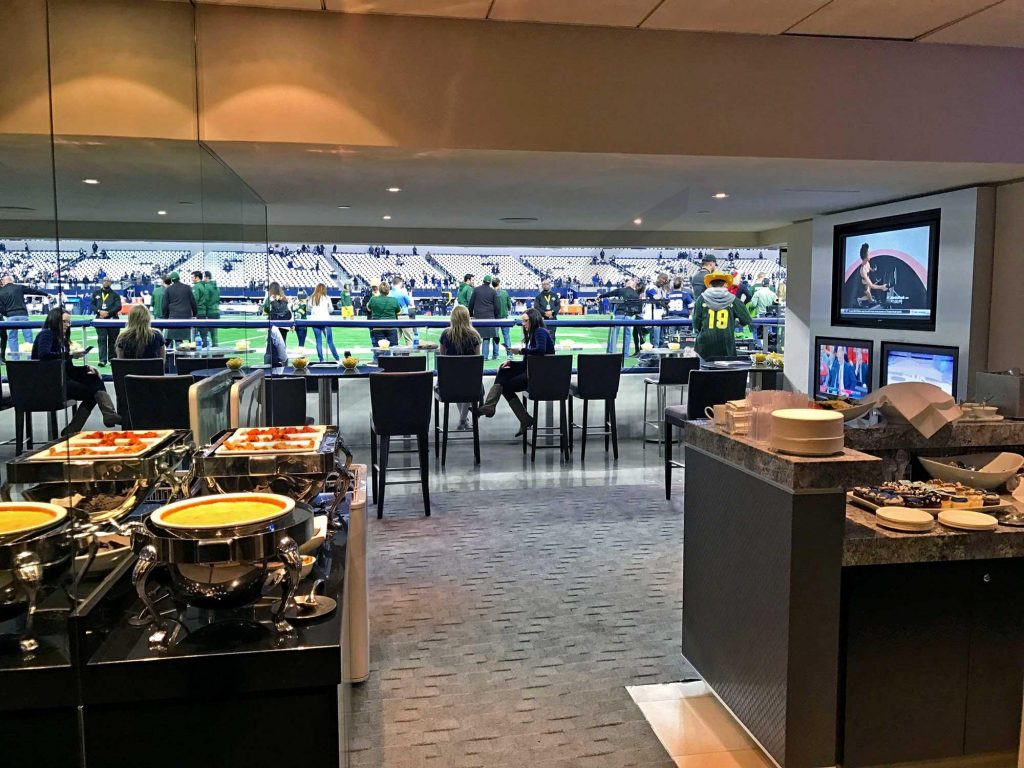 is all sounds amazing, so what is the downside of a field suite? Some guests actually believe it's possible to be too close to the field.  By choosing a suite higher-up in the stadium, you'll have a broader vantage point from which to see all the action.  While a touchdown can happen within feet of your suite (and players have been known to high-five field suiteholders to celebrate), you might also end up watching a touchdown happening on the other end of the field on the giant video board or from a TV in your suite.  Thus, while Field Suites at AT&T Stadium are the ultimate 'bucket list' type experience, those committed to seeing every play with an unobstructed view may opt for a suite higher-up in the stadium.  If in doubt, a suite expert at Suite Experience Group can help identify the best option to meet your group's needs.
To see pricing and the availability for Cowboys Field Suites this season, you can browse AT&T Stadium Field Suite options on our website here: 2020 Cowboys Suite Pricing.
Dallas Cowboys Suite Catering: What you need to know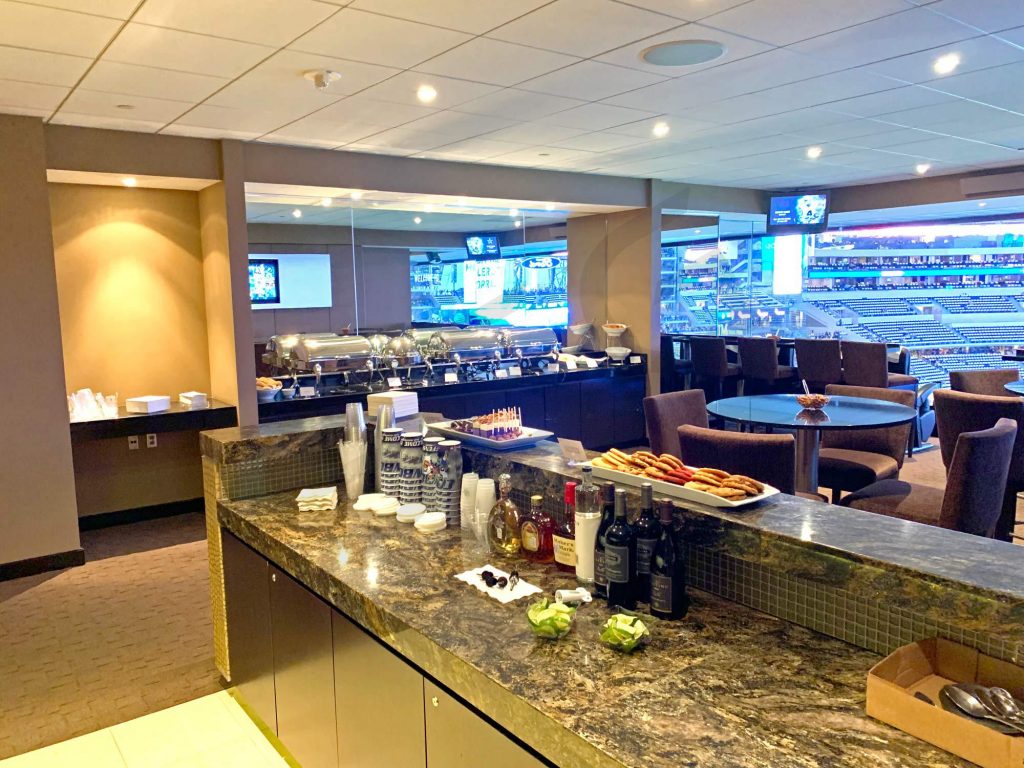 It isn't an accident that the Dallas Cowboys luxury suite experience has garnered worldwide acclaim on the sporting event bucket-list.  And one of the things that makes AT&T Stadium luxury suites so special is the top-notch culinary experience.  Not only can you order in-suite catering in advance, you'll have complete control and be able to customize your order using Legends Hospitality's 50-plus page AT&T Stadium luxury suite menu. From finger foods to full entrees, hand-pick what you think your group likes best. Cowboys suites are designed with plenty of room to provide space for a large buffet. A full-sized refrigerator and wet bar can be stocked with your favorite beverages and dessert can be rolled in during the second half. Ordering food and drinks for your entire party can be a challenge or even stressful for corporate planners. So, here are some of the most common questions that Suite Experience Group customers ask about Cowboys catering:
Can I bring food and beverage into AT&T Stadium?
Unfortunately, no. You'll order in advance with the help of your dedicated SEG representative or from your Cowboys suite attendant upon your arrival. The advance menu will include more options, so it's recommended you order ahead of time.
What if one of the suite guests has dietary restrictions?
The Cowboys offer an arrangement of vegan or vegetarian options, as well as many gluten-free dishes. Legends catering team can also help with any kosher needs.
How much does Cowboys catering cost?
You will order at your own discretion, meaning it can be as much or little as you want it to be. On average, SEG recommends budgeting about $115 per person for a full buffet spread and alcohol. So, if you have a 20-person suite for an upcoming Cowboys game, plan on spending between $2,000 – $3,000 for your catering. This charge won't occur until gameday, separate from your suite purchase.
Do the Cowboys require a catering minimum?
No, you are under no obligation to purchase food or beverage in advance for an AT&T Stadium suite. All food items are served to feed 8-20 guests, depending on the dish. Bottled water and soft drinks come in packs of 8 and beer will be by the 12-pack. Wine or liquor will be by the bottle while mixers and juice can vary in quantity. If your group opts for no food and just drinks, that's ok too.  You can always order from the 'game-day' menu during your event.
Do any suites include catering in the price of the suite? If not, can we order an all-inclusive food package with an open bar?
AT&T Stadium has over 300 suites in the building but a very limited number of suites will include catering in the cost of the suite. The suites that offer all-inclusive catering are located on each sideline on the Hall of Fame suite level (Note: not all Hall of Fame suites have access). The Optum Club on the visitor sideline is an all-inclusive private club where suite ticketholders have unlimited access to food and drinks, including alcohol. On the home sideline, the Owner's Club will offer a similar experience. Both are clubs offer an assortment of high-end options, good enough for even Jerry Jones who has his suite within the Owner's Club. To see availability and pricing for an all-inclusive Hall of Fame suite, you can visit our site Dallas Cowboys Suite Rentals. Catering for all other suites in AT&T Stadium will be an additional cost. Unfortunately, an open bar or an all-inclusive food package are not offered in any suite.
For more questions regarding in-suite catering at AT&T Stadium or additional details on Cowboys suites, please visit Luxury Suites at AT&T Stadium.
Chase Center Suites: Warriors Build the New Golden Standard in Premium Seating
Next season the back-to-back NBA champion Golden State Warriors will move across the bay into their brand new, state-of-the-art arena in downtown San Francisco – Chase Center. The past few years the Warriors have taken the leap on the basketball court from a struggling franchise into the most dominant team in the history of sports. Now it's time for the Dubs to take a similar leap on the sidelines. The Warriors are moving from the oldest, most outdated NBA arena into the league's newest and most spectacular. The Warriors rise to one of the most recognizable and valuable sports organizations in the world will culminate with the grand opening of the magnificent Chase Center for the 2019-20 season.
Despite the Warriors tremendous success on the court the past few seasons – and the enthusiasm of Dub Nation in the stands – there is no doubt that the Warriors are due for a new arena. Oracle Arena has lacked modern amenities, updated food options, and most of all – premium seating options that align with other top venues across the country. With the emergence of the booming tech sector in Silicon Valley, as well as the rise of the Warriors, the demand has never been higher in the Bay Area to treat corporate clients to a Warriors luxury suite. Despite this perfect blend of corporate demand to purchase suites and the entertainment of the Warriors on the floor, Oracle Arena has been unable to provide a true luxury suite experience for Silicon Valley to enjoy. With the opening of the Chase Center, that all changes. Chase Center will offer a state of the art luxury suite experience with upscale amenities, unique offerings, and a modern touch. The ancient suites from 1966-built Oracle Arena will become a thing of the past. The Bay Area will now have the premium seating experience at Warriors games that both the franchise and its amazing fans deserve.
Side-by-Side Comparison
Pictured are the primary level luxury suites at Oracle Arena and Chase Center, respectively. At Oracle Arena the suite is currently referred to as the Concourse Level Suite. At Chase Center, the suite is being sold as a Club Suite. The Club Suite at Chase Center is far more spacious, and it is being sold with only 16 tickets, as opposed to 20 tickets at the Oracle Arena Concourse Level Suite. There will be ample room to mingle with friends or discuss with clients. Highlights of the suite include a dramatic vaulted ceiling, large dining room style table to enjoy the premium food options catered to your suite, and an island bar in the center of the suite to enjoy a cocktail. With a full dining room setting, modern designs, and larger layout, the Chase Center suite will provide a far more relaxing and entertaining suite experience.
Here are some more photos of what Chase Center suites will look like.
What Else to Expect at Chase Center
Theater Box
A major difference between the premium seating options at Oracle Arena and Chase Center will be Theater Boxes, which are intended for smaller groups still looking for an exclusive, private experience. In all there will be 60 total theater boxes, each of which can accommodate 4 guests. In each box there are 4 plush seats and a dining table for guests to enjoy a smaller, more intimate setting. Guests will have access to the 2 theater box clubs at Chase Center, as well as all inclusive premium food and beverages. With Theater Boxes, Chase Center is changing the game for fans who may not have the guest list to fill an entire 16 person suite.
Courtside Lounge
Accommodating 12-16 guests, Courtside Lounges will also provide a new luxury experience for guests at Chase Center. The design and layout is intended to reflect the elegance of Napa Valley, the beautiful wine country to the north of San Francisco. The highlight of the space is a dramatic vaulted ceiling that is modeled after the interior of a wine barrel. With a large harvest table, private bar, and personal butler, Courtside Lounges provide an exclusive experience. There are also shared wine vaults, where guests can socialize with other Courtside Lounge members and store their personal bottles. The Courtside Lounges truly provide an experience unlike any other in the industry.
Get Excited for Fall 2019!
In addition to the best show in basketball, Chase Center already has an exciting set of concerts lined up. Chase Center will open up with a concert on September 6th by Metallica, the most celebrated Bay Area band of all time. Metallica will reunite with San Francisco Symphony in what has all the makings of a legendary night. The concert is not only a celebration of Chase Center's grand opening, but also the 20th anniversary of the two groups coming together. There's no better way to open up Chase Center than with the best the Bay Area has to offer.
The impressive fall lineup at Chase Center also includes John Mayer, Dave Matthews Band, The Chainsmokers, Phil Collins, and The Black Keys. Over the coming months expect Chase Center to reveal an additional list of artists who will perform at San Francisco's newest hub for entertainment.
Chase Center is set to offer the most exclusive premium experiences in the country. Be sure to book with Suite Experience Group to secure a Chase Center luxury box today!
How to Buy a Super Bowl LIII Luxury Suite
Are you exploring suite options for Super Bowl LIII?  Suite Experience Group is here to help you plan your experience in a luxury suite for Super Bowl 53 with advice on how to book your suite and a comprehensive guide on the premium seating options and amenities at Mercedes-Benz Stadium.
When is the right time to book a luxury box for Super Bowl LIII?
The best time to book a Super Bowl suite depends on whether you are booking the suite as a corporation looking to entertain clients, or a fan tied to seeing a particular team in the big game.
Corporate Buyer Considerations:
If you are a corporate buyer, your best option is to book a Super Bowl suite as soon as you feel comfortable committing to the purchase. As the playoffs get underway, inventory will continue to decrease and prices tend to increase. As inventory sells, you risk missing out on suite options that will best accommodate your group.
Personal Buyer (rooting for a specific team):
For buyers who only have interest in attending the game if their favorite team makes it to Super Bowl LIII, the best option is to wait until mid January to evaluate how your team is advancing in the playoffs. You can either purchase the suite early and attempt to resell it if your team doesn't make it, or you can wait until after Championship Weekend.  There is some degree of risk with each approach. If you buy early and your team doesn't make it to the Super Bowl, you risk not being able to sell the suite at the full price that you purchased it for, thus losing money on the transaction.  If you wait until your team makes it to the Super Bowl, there is always a scramble to buy the few suites remaining on the Sunday night and Monday morning after the Super Bowl teams are determined, and prices often rise. For Super Bowl LIII, this timing falls on Monday, January 21st. Of course, if you have supreme confidence that your team will make it to the Super Bowl (as of the writing of this blog, we're looking at you, Patriots, Rams, Saints and Chiefs fans), then it's never too early to book your Super Bowl LIII suite!
How expensive is a Super Bowl LIII suite?
Super Bowl suite prices will vary significantly based on suite location and size.  As of this writing (December 2018), the most expensive suite at www.suiteexperiencegroup.com is a Gullwing Club suite at $650,000.  The least expensive suite is a 200 Level suite coming-in under $300,000.  In general, customers should expect to pay between $14,000-$30,000+ per ticket depending on the location of the suite.
What are the different Super Bowl LIII suite options at Mercedes-Benz Stadium?
For the traditional suite experience: 100 Level Suite or 200 Level Suite
100 Level and 200 Level Suite Details

Size: While sizes vary, most 100 Level Suites accommodate 26 guests, and most 200 Level Suites accommodate 20 guests
Location: Both suite levels wrap around the entire stadium, except the 100 Level Suites are one level lower, bringing you and your guests closer to the action.
Why book a 100 or 200 Level Suite?

For those looking for a traditional Super Bowl luxury box experience, the 100 and 200 Level Suites are great options.  Guests will enjoy a very similar Super Bowl suite experience, regardless of whether you book a 100 Level Suite or a 200 Level Suite. The primary differences between these two suite levels are size and location.
Both of these Super Bowl LIII luxury suite levels include the premium amenities that are included in traditional luxury boxes:

Exclusive catering
Upscale furnishing
Private restrooms
Dedicated in-suite attendant
HDTVs
For the most unique and exclusive suite options at the Super Bowl, opt for the Field Level Suite or a Gullwing Club Suite
Field Level Suite Details

Size: Field Level Suites accommodate 22-26 guests
Location: Field Level Suites are located on the turf right behind the endzone, bringing you closer to the action than any other luxury box in the stadium.
Why book a Field Level Suite?
By offering an experience unlike any other in professional sports, Field Level Suites have re-defined premium seating at NFL stadiums. Venues built within the past few years are the only ones that have luxury suites this close to the field.

Unrivaled view:

Outside the suite there are 3 rows of 6 plush leather seats perched just a few feet above the field in the end zone, providing guests with a view of the game unmatched anywhere else. First class benefits of a skybox and front row seats to a touchdown celebration? Yes please!

It's exclusive:

There are only 16 Field Level Suites in Mercedes-Benz Stadium, with 8 behind each endzone. Enjoying the Super Bowl from one of these suites is a special experience that very few have the opportunity to enjoy.

It's spacious:

Field Level Suites are more spacious than the other luxury boxes at Mercedes-Benz Stadium.

VIP treatment:

Field Level Suites include all the typical premium seating amenities, including upscale furnishing, in-suite attendant, HDTVs, private restrooms, and first class service.
Gullwing Club Suite Details

Size: Most Gullwing Club Suites accommodate 22-26 guests
Location: Gullwing Club Suites are located on the 100 suite level between the 20 yard lines.
Why book a Gullwing Club Suite?
If you want the best suite view from midfield, the Gullwing Suite is the place to look. No skybox is inside the 20 yard line, ensuring prime views of the field.

Access to the Gullwing Club:

The Gullwing Club at Mercedes-Benz Stadium is reminiscent of a 21st century palace. The gold and silver interior design, from the sofas to the chandeliers, beautify the club space into one of the most incredible premium seating options in the country. Arthur Blank, the owner of the Falcons, personally oversaw many of the touches of this club.  Feel like football royalty by enjoying Super Bowl LIII from the Gullwing Club at Mercedes-Benz Stadium.

The Most Exclusive Suite Location:

Gullwing Club Suites are also known as Owner's Suites. Atlanta Falcons owner Arthur Blank is expected to be in attendance in his suite (right on the 50 yard line in the Gullwing Club) for the big game. It will be no surprise if NFL commissioner Roger Goodell and other top celebrities are spotted in the Gullwing Club Suites at Super Bowl LIII.
For smaller groups of guests: Loge Box
Loge Box

Size: Loge Boxes accommodate 4-6 guests and include 1 VIP parking pass.
Location: Loge Boxes are located in the back section of the lower bowl, just below the 100 suite level. The upper portion of sections 106, 114, 124, and 132 are set aside for Loge Boxes.
Why book a Loge Box?

Premium seating, yet more casual:

The Loge Box is a new trend in the premium seating industry that is quickly gaining popularity. Guests feel like they are part of the general seating bowl, yet you have your own private section of plush seating and VIP service.

Smaller group size:

Are you looking for a Super Bowl LIII suite, but don't have a party of 16+? Loge Boxes are perfect for a small gathering of guests who want to enjoy the Super Bowl in a VIP environment.

Club access:

Guests in a Loge Box will have all-inclusive access to the AMG Lounge and SunTrust Club. Enjoy full access to the gourmet food, flat screen TVs, and trendy bars at two of the finest clubs at Mercedes-Benz Stadium.

It's intimate:

With 4-6 leather seats surrounding a table overlooking the field, Loge Boxes provide an intimate setting. An HDTV is built in to the center of the table, offering dynamic views of the game.
Here is a suite map for Mercedes-Benz Stadium to give you a better idea of where each suite is in the stadium.
How expensive is a Super Bowl LIII suite?
Super Bowl suite prices will vary significantly based on suite location and size.  As of this writing (December 2018), the most expensive suite at www.suiteexperiencegroup.com is a Gullwing Club suite at $650,000.  The least expensive suite is a 200 Level suite coming-in under $300,000.  In general, customers should expect to pay between $14,000-$30,000+ per ticket depending on the location of the suite.
Why is the Super Bowl taking place at Mercedes-Benz Stadium?
After 25 years at the Georgia Dome, the Atlanta Falcons built the magnificent Mercedes-Benz Stadium ahead of the 2017 NFL season. Located in Atlanta, GA, Mercedes-Benz Stadium is the newest stadium in the NFL. Falcons owner Arthur Blank's $1.6 billion vision came to reality when the stadium first opened its doors on August 26, 2017 for a Falcons preseason game against the Arizona Cardinals.
Along with many other distinct features, the stadium has a ring-shaped circular scoreboard that is three times the size of any other electronic display board in the NFL. The scoreboard is unlike any other scoreboard in professional sports, and it has drawn widespread acclaim from fans since the stadium's opening. Mercedes-Benz Stadium also has a retractable roof that slides open in circular form around the ring-shaped scoreboard. With fan first food and beverage pricing, an in-house Chik-fil-A, open glass views of the city, and pedestrian skybridges, Mercedes-Benz Stadium sets itself apart from other venues across the country.
If I want to book a Super Bowl suite, what are my next steps?
Ready to book a luxury suite for Super Bowl LIII? Here's a simple guide of how to use SEG to book your Super Bowl LIII luxury suite.
Browse suite inventory and use the suite map to see where each suite is located in Mercedes-Benz Stadium.
Once you decide on the suite that is right for you, click on the suite and then select "Request to Book."
Fill out your personal information, and an SEG client service representative will be in contact with you as soon as possible.
Suite Experience Group has sold suites for the last nine Super Bowls and is well-equipped to ensure your trip to Super Bowl LIII is the experience of a lifetime!
Expect New Tax Code to Stimulate Growth in Secondary Market for Luxury Suites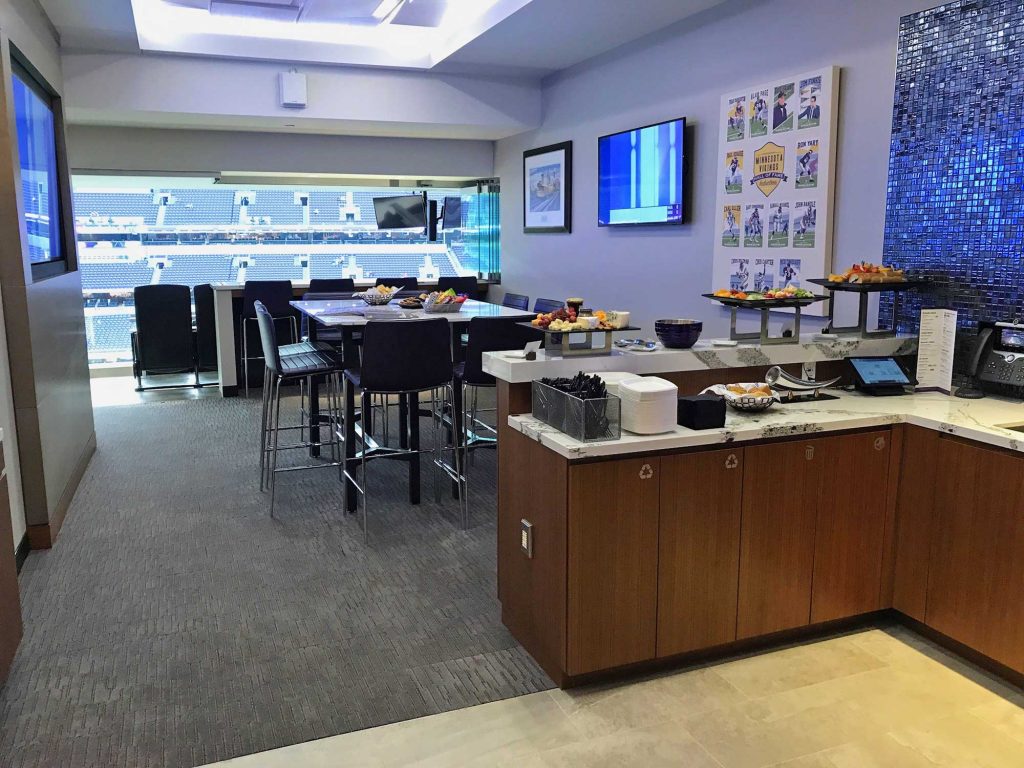 The recent Tax Cuts and Jobs Act passed by Congress has already had sweeping effects on nearly every industry, including the market for tickets and luxury suites at sporting events and concerts. Prior to the new tax code, companies used to be able to write off 50% of all "entertainment, amusement, or recreation" expenses, such as treating clients to golf outings or entertainment events in a luxury box. With the new legislation, the cost of luxury suites are technically no longer tax deductible. (This may prompt some companies to categorize these expenses as an advertising expense or some other fully-deductible line item; however, that posture comes with some degree of tax audit peril. Most companies shy away from this risk and will indeed categorize their luxury suite expense as entertainment.)
Essentially, from an economic standpoint, the price for a company to own a luxury suite has risen, despite venues making no changes to their pricing. As written by Bloomberg Politics, "Luxury boxes at stadiums and arenas — along with theater and concert tickets — will be more costly for firms that use them to woo clients." Firms must now search for solutions to maintain the level of client satisfaction that has driven positive results to their bottom line for years, while also being wary of the increased price of their luxury suite – this is where the secondary market comes into play.
With the post-tax price of a luxury suite increasing, businesses will look to minimize their luxury suite expense as much as possible and return to the prices they were comfortable paying before the tax legislation was passed. The easiest way to do so is by exploring the secondary market for luxury suites. Through exchange platforms such as Suite Experience Group, firms that are no longer as comfortable paying high lease prices for luxury suites can sell individual game suites to buyers in the marketplace. By participating in the secondary market, businesses are able to recoup some of their original investment. According to one corporate suiteholder who asked to remain anonymous, "We are strongly considering cancelling our suite lease at the end of this year and simply purchasing events on an as-needed game-by-game basis moving forward."
Financial Impact on Corporate Suiteholders
Allan Ratafia, Managing Partner of Ratafia and Company, CPA's and Build Your Firm Inc, presents a basic example to demonstrate how the new legislation will impact the secondary market. Assume Firm A has $100,000 in revenues, a luxury suite expense of $80,000 (assume this is the firm's only expense), and the corporate tax rate is 40%. Under the old tax legislation, 50% of the $80,000 entertainment expense was tax deductible, meaning $40,000 can be deducted from Firm A's revenues. This would leave $60,000 in taxable income, and with a 40% tax rate, Firm A would have to pay $24,000 in income taxes. Now with the new tax legislation, 0% of the entertainment expense can be deducted from Firm A's revenues, resulting in $100,000 of taxable income. Firm A would now have to pay 40% of $100,000, meaning $40,000 must be paid in income taxes.  Firm A would pay $16,000 more in taxes, effectively increasing the cost of its luxury suite by 20% to $96,000 ($80,000 + $16,000).
Mr. Ratafia, who has been practicing as a tax accountant and financial advisor since 1988, argues that some firms will look to recover that increase by allocating and selling a set number of games in the secondary market. "I just might not give my clients as many games. If I have 8 home NFL games, I may only treat my clients to 6 of the games, and I will look to recover the costs of the other 2 games to compensate for the tax increase under the new rules. If we're going with the same numbers as before, selling 25% of my tickets would bring back $20,000 in cash to my company, making up for the steeper income taxes, $16,000 above, I now have to pay."
Effect on Teams and Venues
In addition to the current impact of the tax reform, which suggests firms will look to resell their suites at a greater rate, the potential impact on teams in the near future must not be ignored. When companies decide whether or not they should renew their suite leases in the coming years, executives may have more hesitation to do so than in years past. While some companies will still renew their leases, many will determine that luxury suites – now bearing an additional cost – are no longer worth the investment to their firm.
Teams and venues that derive significant revenue from luxury suites essentially have two levers to offset the tax impact on their leaseholders: significantly lower prices for luxury suites, or encourage the usage of secondary markets to sell the suite for underutilized events. Firms will be more willing to renew their luxury suite leases if they are made aware of the potential to resell the suite for individual events. The ability to recoup a portion of this investment is an attractive feature for leaseholders and will also play a role in how much, if any, teams and venues will actually re-price their suite tickets. The secondary market can ease the concerns of leaseholders and incentivize them to renew their luxury suite leases with teams.
The secondary market for luxury suites is more important now than ever before. Teams have an opportunity to encourage the use of the secondary market by their leaseholders or risk losing those suiteholders who aren't willing to pay the steeper costs. While each suiteholder will react differently to the new tax rules, suiteholders can shift from defense to offense by using the secondary market to offset the higher cost of the lease.
NFL Disney World: Massive Los Angeles Stadium Underway
NFL returns to the City of Angels
Los Angeles is one of the United States' most recognizable and populated areas. Home to two NBA, two MLB, one MLS, and one NHL franchise, not to mention the fervent rivalry between local university athletic programs UCLA and USC, it's safe to say that L.A. is a great sports city. However, since 1994, LA has lacked professional football. This is changing in a big way; starting this upcoming 2017 NFL season, the Chargers will join the newly relocated Los Angeles Rams to bring two NFL franchises to the greater Los Angeles Area. The Bolts were founded in Los Angeles in 1960 before heading south to San Diego the following season.
Filling the Stadiums
Will Los Angeles be able to support not one, but two football franchises? Last season, the Rams were welcomed back with open arms, selling out 70,000 season tickets and drawing a crowd of over 91,000 to their season opener at the Los Angeles Memorial Coliseum. The Rams' evaluation jumped from $1.45B to $2.9B after moving, good for 3rd highest in the NFL behind the Cowboys and Patriots. The Los Angeles Chargers will move into the StubHub Center, home of the LA Galaxy. At a capacity of 30,000, it is well below the NFL's required minimum of 50,000. However, this location is temporary, as both the Rams and Chargers will move into the Los Angeles Stadium at Hollywood Park, which is currently under construction in Inglewood, for the 2020 NFL season. 
Los Angeles Stadium Quick Facts
298 acres, 3.5 times the size of Disneyland

Expected to hold 70,240 seats, plus 25,000 in standing room only tickets behind end zones

260 luxury suites, 7 different varieties

Joins MetLife Stadium (home of the NY Giants   and NY Jets) as the only stadiums that are shared by two NFL franchises

Privately funded, expected cost of $2.6B is over $1 billion more than next most costly stadium in the world (MetLife)

Will host Super Bowl LVI in 2022

19-acre transparent canopy to cover stadium
In addition to battling for and receiving NFL franchises, Los Angeles will host the summer Olympics in 2028. The Los Angeles Stadium is expected to host the Opening Ceremony, soccer, and archery events.
Though the stadium is several years from being completed, the first 125 luxury suites have already been marketed to potential leaseholders. If you simply cannot wait, you can purchase a suite for the Los Angeles Rams at Memorial Coliseum or the Los Angeles Chargers at the StubHub Center with Suite Experience Group today.
The High End Sharing Economy: An Analysis of the Resale market for Luxury Suites at Sporting Events and Concerts
Executive Summary
There are $8 Billion worth of luxury suites leased annually in North America. Leaseholders are projected to resell $100 Million of these suites in 2017.
This 'secondary market' for suites is growing rapidly with the rise of online marketplaces solely dedicated to supporting suite leaseholder resale.
This paper focuses on how teams/venues, suite leaseholders and single-event suite buyers stand to benefit from a larger secondary market:

Teams

: Suite resale is happening in nearly all venues in North America that have suites. Teams can either contest resale or embrace it. This paper argues that by sanctioning suite resale, teams will improve their lease renewal rate, bring in new buyers to the stadium, and gain and additional revenue channel.

Leaseholders

: Suite leases are key to the funding of new stadiums. Many newer venues are pushing the length of suite leases to ten years or more. Leaseholders are increasingly seeking solutions to monetize the events they don't plan to attend over the course of a lease.

Buyers

: Entertainment in luxury suites has a proven ROI for corporations. Concurrently, increasing levels of spend are being directed towards experiences over possessions. As buyers learn that they can access suites on an event-by-event basis, the overall size of the resale market will continue to grow. Dedicated online marketplaces have been established to allow buyers to purchase the unused suites being offered by sellers.

There will be an increased level of collaboration between venues and secondary market platforms as venues look to keep their suite leaseholders satisfied and foster incremental revenue streams. While the level of sophistication and liquidity in the resale market for luxury suites is far behind the market for tickets, the suite market is advancing rapidly for the benefit of teams, venues, leaseholders, and buyers.
---
White Paper: Analysis of the Resale Market for Luxury Suites at Sporting Events and Concerts
Imagine the sales team of a regional insurance company, standing in the parking lot outside Ford Field in Detroit. The Lions are playing the Bears, but the sales team is missing the game. They take $50,000 cash out of a duffel bag and burn it in a nearby trashcan. Why would anyone do such a thing? Actually, this happens more than you think at stadiums around the country. Allow me to explain:
Companies that don't fully utilize their multi-year luxury suite leases at stadiums and arenas are burning cash just like that poor insurance company. The Association of Luxury Suite Directors estimates that $8 Billion per year is spent on sports on sports and concert suites. InviteManager estimates that 43% of these already leased suites go unused or underutilized. When you do the math, that's a lot of figurative piles of cash going up in flames in parking lots around the country.
Mirroring the broader rise of the sharing economy, the companies and individuals who own suites are beginning to take action to achieve a better return on their investment, while venues increasingly push for longer and longer terms on their suite lease agreements. It's a market in want of liquidity, and leaseholders are increasingly seeking-out and finding ways to monetize the suites they can't use.
Proactive leaseholders have taken to listing their suites on far-ranging sites, including Craigslist and eBay, to offload the games they cannot attend. Those sites, however, do not provide an adequate user experience or protection for buyers or sellers. As a result, sophisticated suite-focused vertical marketplaces, such as Suite Experience Group, have stepped in to fulfill the needs of leaseholders.
This paper examines the shifting needs of venues, suite leaseholders, and single-event buyers and predicts how the industry will play out for all the parties involved.
Live sports are a proven business development and marketing tool. Suites are often used for extended face time with clients and prospects in an intimate and exciting environment. As Steph Curry makes electrifying plays on the court, business executives high above on the suite level of Oracle Arena are closing deals of their own.
Businesses understand the value of luxury suites and the cachet that they bring. The most expensive suites on a per-event basis can be found in the NFL, where the typical cost of leasing a suite for an 8 game NFL season is $200,000, or about $25,000 per game (note: pre-season games are included in the leases but hold very little value on the resale market).
The challenge is that the long-term leasing model is vitally important to the teams. The contractual revenue of the suite lease is used to justify bonds issued to build stadiums (Lawrence, Kahler and Contorno, Ohio University). This structure heavily favors teams and venues by locking in suite leaseholders to a multiyear commitment. However, increasingly, suite leaseholders are expecting increased salability of individual events from this large investment, analogous to what they now achieve with other assets (e.g. earning revenue from unused time at a beach home listed on Airbnb). As suite leaseholders pursue resale opportunities, the response from teams and venues has been varied: progressive teams are adjusting their business models to accommodate and support leaseholder resale, while other teams have been slower to respond.
Irrespective of whether a particular team or venue has adopted a sanctioned resale platform, leaseholders can lean on numerous resources that facilitate peer-to-peer sharing of suites, for which owners and renters would otherwise encounter difficulty finding each other.
A secondary market for luxury suites benefits all actors involved: the teams, the suite leaseholders, and the single game/event suite buyers. As evidence of how teams have started to embrace suite resale, many of the nations leading venues have decided to sell a number of suites directly to ticket brokers, including Staples Center, Verizon Center, TD Garden, Wells Fargo Center, Angel Stadium, and AT&T Stadium. Concurrently, professional secondary market suite platforms are beginning to bring order to this previously illiquid and unreliable industry.
How The Secondary Market Helps Leaseholders Avoid Excess Inventory
For leaseholders, the secondary suite market provides flexibility. The nation's marquee arenas, such as New York's Madison Square Garden, may host over 200 events per year. Filling suites for these events becomes a full-time job for leaseholders, a job they may not have the time or capability to carry out effectively. When arenas force leaseholders to commit to the events from multiple franchises and non-sports events, the financial commitment rises, while the marginal benefit of each incremental event decreases. Owners who resell their suite for games they can't attend feel more secure knowing that games they inevitably cannot attend will be monetized.
Ticket management software such as TicketOS and InviteManager make it easier for firms to understand the ROI on their tickets and suites. The data shows that small to medium-sized companies and high net-worth individuals are the leaseholders most likely to take advantage of the increased liquidity in the market.
From a buyer perspective, a suite lease agreement is a multi-year commitment that can scare off all but the largest of companies. Indeed, many entities simply don't need so many events. For example, the organizers of trade shows, conferences and conventions may host only one or two networking events a year, (often in different cities from year-to-year). However, buying a suite for a single game on the secondary market is a less significant investment that is much more appealing to these types of companies who otherwise could not afford a multi-year lease (or for companies that want to spread their event spend across multiple cities). The value here is that these smaller companies now can work on their client relationships the same way the largest businesses do. In addition to being cost efficient, it helps level the playing field where small companies can project a more impressive image, even if it's just for one night.
The luxury suite market is beneficial for all constituents involved: the team, the leaseholder, and the single event buyer.
How Is Supply And Demand Affecting Suite Prices?
Suite prices are directly correlated with a number of factors, including the strength of the matchup, the day of the week, the location of the suite, and the number of the suites on the market. In general, re-sale is becoming more lucrative due to the fact that supply of suites in new stadiums is actually declining after a multi-decade rise in the number of suites in North America. Following the basic laws of supply and demand, as the number of suites in new and existing venues declines (and demand remains at least constant) the value of any given suite will rise. As owners and city municipalities pool resources to create state-of-the-art stadiums, suites serve as an important staple of the building plans. However, stadium builders are wary of an over saturation of suites that could result in supply far exceeding demand. As a result, there are fewer suites for more prospective owners, driving up the price both on the primary market as well as the secondary market. These suite leases serve as a form of bond for the stadium, as the majority of leases are signed before the inaugural season begins, the money is used to help finance the stadium construction (source: Wall Street Journal).
Here is a breakdown of the number of suites for a number of the most recent stadiums built with a comparison to the number of suites in the prior venue. The new venues, on average, have 23% fewer suites.
Though there may be fewer physical suites in newer venues, this is counterbalanced by the trend towards the multi-tenant and multi-use venues – there are more and more events being packed into each venue. As expenses continue to rise for building stadiums, team owners try maximizing revenue by booking as many events per year as possible. For example, Madison Square Garden may host a Knicks game on Thursday, the Rangers on Friday, and a Billy Joel concert on Saturday. As this trend grows, many suite owners will be forced to deal with an excess supply of events.
The Sharing Economy Model of Suite Resale
Peer-to-peer sharing is becoming a staple of the economy, as illustrated by the extravagant market value of companies such as Uber and Airbnb. Successful platforms implement sharing by minimizing the marginal cost of new user acquisition (e.g., the headache and expense of identifying a qualified renter of a summer house) compared to the marginal revenue that is brought in.
Oxford defines the sharing economy as "An economic system in which assets or services are shared between private individuals, either free or for a fee, typically by means of the Internet." This paper will not go in depth about what the sharing economy is, or why it is important. There is already a good deal of writing about the virtues of this business model. Rather, it should be emphasized that the sharing economy model applies to luxury assets, not just normal goods, because it makes them more accessible.
While luxury goods have different characteristics from normal goods, the mechanisms of collaborative consumption still apply to both in the same manner. Luxury suites or villas can be re-sold while still maintaining initial value. One could worry that the stigma of renting as opposed to owning might dissuade potential buyers with high socioeconomic standing. However, the ease and availability of goods on sharing economy platforms counteracts this.
The sharing economy model has been at work in the ticketing business since the early 2000's, when StubHub created a marketplace for the resale of regular seats. While there was skepticism regarding the viability of these types of companies at their inception, today the secondary market for tickets is an essential aspect of the ticketing landscape.
Compared to a seller of a single event seller on StubHub, a suite leaseholder must be careful when deciding who to sell to- leaseholders don't want a rowdy bachelor party in their suite damaging items. In response to this concern, sharing platforms of high value assets, such as Airbnb and Suite Experience Group have implemented systems to vet prospective buyers and protect the asset owners from liability and damages.
The liquidity and sophistication of the luxury suite market is currently 10 years behind the ticket market. The suite market is at an inflection point where teams now have a chance to better control and monetize the secondary suite market in a way they were slow to act on in the early days of the ticket market. As the secondary market for suites continues to grow, savvy teams are forging partnerships with secondary market platforms to benefit from transactions that are already taking place.
Teams – The Business Case For Teams And Venues To Embrace Leaseholder Suite Resale
There are four primary reasons why suite resale is good for the teams. First, it allows suite leaseholders (often the team's best customers) to achieve a better ROI on their lease, and they will be more likely to renew that at the end of the term. Second, new buyers are introduced to suites, establishing a pipeline of future lease prospects. Third, the ambience in the venue improves when suites that would otherwise have sat empty are now bustling with fans. Lastly, resale contributes revenue to teams in the form of increased catering spend, as well as direct revenue from secondary market partners.
A team's approach to resale should be tailored specifically to the market size and demand level of the team. Low-demand teams should pursue different strategies from high-demand teams. Specifically, high demand teams should partner with secondary players to gain insight into and control over the resale activity occurring by their suite leaseholders. Low demand teams should sell their own inventory by using secondary market as a wholesale channel. Resale is already happening at varying levels at every venue in North America, and teams would be wise to find a strategy to benefit from it rather than ignore it.
Leaseholders – Selling Unused Capacity Maximizes The ROI Of The Suite Lease
The largest beneficiary of suite resale is perhaps the suite leaseholder. Prospective leaseholders are increasingly taking the time to investigate their secondary market options even before they sign a lease. The long-term commitment required becomes less of a concern if they know that they can sell their suite for the events they don't want. If leaseholders are assured that they will be able to find buyers for these events, then they will be less hesitant to buy the suite initially. In this regard, the secondary market is boosting confidence in the primary market.
Prudent businesses will not leave money on the table if the alternative is just handing out tickets for free to family members or whoever is in the office the latest on a Friday. The money they are saving from the events they don't attend can now be re-invested into the company.
Buyers – Single Event Usage Of Luxury Suites Introduces Smaller Companies To The Big Leagues of Business Entertainment
One of the inherent benefits of the sharing economy is that more individuals and firms can punch above their weight class. Through buying single game tickets, these firms are in a better position to host more important clients. A college student can use Uber to get to the bar in a new Mercedes. A young couple can rent a luxury villa for a weekend in Hawaii. And while a local insurance company can't afford a long-term lease at Heinz Stadium to watch the Pittsburgh Steelers, they can still afford to buy a suite for one game. Companies often buy luxury suites on the secondary market to appear as though they are on the same level as larger competitors. This pays dividends in the form of increased legitimacy in the eyes of their clients. Additionally, the amount saved from avoiding a long-term lease can now be redirected to other aspects of the business. Companies like SEG have made it easier than ever before to rent suites for only the desired events.
Suite Experience Group's Approach To A Win-Win-Win For Teams, Leaseholders, And Buyers
SEG's business model allows leaseholders list their idle suites on SEG's platform. SEG facilitates the sale of the suite, and shares the revenue with the leaseholder at a predetermined amount.
Teams are also listing their excess inventory on the platform as well as introducing their suite owners to the website. Teams who embrace the secondary market have seen increased renewal rates from leaseholders as well as an increased sell through rate on rental suites. The teams are also benefiting by ensuring that more suites are full on game day.
The SEG platform creates an unprecedented level of transparency in the market. Prospective buyers can search for the specific suite they are looking for, tailoring the search based on either event type or venue. Buyers have all the relevant information needed to make a purchase: suite leaseholders offload the time-consuming back-and-forth with buyers. A win-win-win for teams, leaseholders, and buyers.
The Path Forward For The Suite Resale Market
Remember that sales team from the Detroit-based insurance company? They are no longer burning cash outside of Ford Field. Instead, they are attending the games they want to, and earning money from the ones they can't attend by selling their suite. As buyers learn they can access suites without signing a long-term lease, the total size of the suite market is expanding. This liquidity gives leaseholders the confidence to sing longer-term leases. One of the largest beneficiaries here are the teams and venues, who now find it easier to lock-in long-term leases, while concurrently having fewer suites sitting dark on an event-by-event basis. The secondary market for suites is evolving quickly and, one the whole will be a positive force in the premium seating industry.
---
Are you a leaseholder looking to resell your suite? Are you a team or venue considering how to partner with the secondary market? For additional information of Suite Experience Group's services, please contact [email protected] or visit www.suiteexperiencegroup.com
NBA Free Agency Frenzy
By Matt Lunde and Hal Schwimmer
NBA fans have seen almost as much action in the league during this offseason as they did during the regular season. Here are a few teams that have made a lot of noise thus far in free agency.
Golden State Warriors
We begin with the team that has and will continue to have the most buzz around the league for years to come: the Golden State Warriors. The Warriors officially awarded their Golden Boy, Steph Curry, with a whopping 5-year, $201M contract, making him the highest paid player in any of the four major U.S. sports leagues. With their leftover cash, the Dubs were able to retain most of their key rotation players, re-signing Andre Iguodala and Shaun Livingston. The Warriors still might not be done in free agency, as rumors have surfaced that they are pursuing veteran swingman Nick Young as yet another perimeter threat.
Additionally, Finals MVP Kevin Durant inked a 2 year, $53M contract. While this is still an enormous sum, Durant actually took a $10M cut from the max he could have received, partly to help the team pursue other free agents. Take this as you will, but perhaps KD is setting a selfless precedent for his teammates Klay Thompson and Draymond Green, who are both set to become free agents in two years. Barring injury, it would appear that the Warriors core will remain intact for at least the next two years. What a terrifying prospect for the rest of the league.
Oklahoma City Thunder
In other news, the Western Conference continues to get stronger as the Eastern Conference watches in despair. Pacers All-Star forward Paul George was shipped to the Oklahoma City Thunder in exchange for Victor Oladipo and big man Domantas Sabonis. While George would normally have demanded a larger return, the Pacers had little leverage as most teams were afraid of George walking after his contract expires.
It will be an interesting experiment, as the Thunder now have two elite players in reigning league MVP Russell Westbrook and  his new running mate George. While it's uncertain if this duo will remain together long term, at the very least this next season should be a fun one for Thunder fans.
Minnesota Timberwolves
Jeff Teague left the Pacers to sign with the Minnesota Timberwolves, replacing starter Ricky Rubio, who was traded to Utah. The T-Wolves appear hungry as ever to end their NBA-high 13 season playoff drought, as they now boast a roster that includes Jimmy Butler, Karl Anthony-Towns, Teague, and Andrew Wiggins. With a starting five that boasts a former all star (Teague), a current all star (Butler), and a future all star (Towns), this Wolves team should have enough talent to compete with anyone else in the league. Reaching the playoffs should be an expectation, at the very least, for Tom Thibodeau's squad.
Houston Rockets
While the Warriors are looking to build the next great NBA dynasty, several teams have gone all in this summer to challenge the Golden State supremacy. Daryl Morey and the Houston Rockets paid a heavy price when they traded for Clippers point guard Chris Paul, but the payoff may be well worth it. Paul is a future hall of famer, and one of the greatest pure point guards to ever play the game. He and James Harden are both basketball geniuses who make everyone around them better with their pin point passing and playmaking acumen. In addition to high volume scoring, Houston will also boast a significantly improved defense with Paul now hounding opposing guards at the point of attack.
Houston isn't done making moves. While they lost most of their assets in the Paul trade, never count out Morey and his front office from finding a way to land a third star to the mix. A name being throw around currently is disgruntled Knicks forward Carmelo Anthony. If any team in the west can take out the Warriors, it might be these Rockets.
Boston Celtics
In an offseason that has seen heavy westward migration, Gordon Hayward zigged when the rest of the league zagged. The All-Star forward decided to reunite with his former Butler head coach, Brad Stevens, and play for the Boston Celtics. GM Danny Ainge has finally assembled Boston's next great big three. Hayward will play alongside all-star point guard Isaiah Thomas and former all-star center Al Horford.
The acquisition of Hayward solidified Boston's status as the best team in the Eastern Conference that doesn't have Lebron James. While the Celtics were overmatched by Cleveland in last year's conference finals, Hayward projects to narrow the gap between the two teams. Boston has one of the most well-rounded rosters in the league now, and aims to return to the finals for the first time since 2010.
Philadelphia 76ers
Meanwhile in Philadelphia, 76ers fans are not just trusting the process; they're loving it. Philly already has an uber-talented young core in Markelle Fultz, Ben Simmons, and Joel Embiid. The Sixers decided to surround their young big three with veteran talent as a means of expediting the growth of the team. The team brought in sharp shooting guard J.J. Reddick and hard working forward Amir Johnson. Reddick will provide much needed spacing to the offense, keeping floor defenses honest to create driving lanes for Fultz and Simmons. Johnson provides a physical presence down low and a hard-working veteran mentality the young players can learn from.
This whirlwind of an offseason has raised the bar for the level of excitement in the upcoming NBA season. You can see these familiar faces in new places from the comfort of a luxury suite. Book your suite today at www.suiteexperiencegroup.com. What are you waiting for?
NBA Draft Recap: Who Made a Splash at the NBA Draft
The exciting 2017 NBA draft was completed on Thursday, June 22. With one of the most talented draft classes in recent memory, 30 teams and their respective fanbases looked for new reasons to be optimistic about the 2017-18 season and beyond. Let's look at seven teams who particularly stuck out with the moves they made.
Philadelphia 76ers
After years of patiently waiting, Sixers fans are ecstatic to see the results of The Process. Markelle Fultz may not have played for a national powerhouse when he was at the University of Washington, but don't let that deter you. He is the best guard in the draft, and will be a great fit in Philly's offense, sharing the facilitator role with point-forward Ben Simmons.
While the last few years have been unmemorable for the Sixers, they now have a young core in place to let them compete for the years to come. In addition to Fultz's all around dynamic game as a guard, Philly fans get to see him play alongside Simmons, Joel Embiid, and Dario Saric. Both Embiid and Saric were stand out rookies this past season, with Embiid showing glimpses that he could be the most dominant center since Shaquille O'Neal when healthy.
Philadelphia went all in, trading up to the number 1 pick, and Fultz's potential can make this gamble look like a no brainer very soon. The Sixers are primed to take over the Eastern Conference very soon, as year one of the FEDS (Fultz, Embiid, Dario, Simmons) should be a good one.
Los Angeles Lakers
Lonzo Ball, along with the world's most famous cheerleader parent, will be staying in the city of angels following a stellar season with UCLA. The Lakers played their hand early, dealing D'Angelo Russell a few days before the draft to make way for Ball to take over the point guard position. With Magic Johnson calling the shots now, LA will give Ball every opportunity to lead the way for hopefully the next great team in this franchise's storied history.
Ball isn't a good passer; he's a great one. No one in college basketball saw the court better than Ball, who will look to spread the passing gene onto his teammates. Ball's up tempo, pass-first, approach makes him an ideal fit for head coach Luke Walton's offense. Players like Ball make the guys around them better, which is great news for fellow teammates Brandon Ingram and Julius Randle. Ball will make it his prerogative to get those guys the ball on the spots on the court where they're most effective.
The Lakers aren't used to being mediocre for too long, and expect to return to the NBA's top tier sooner rather than later. They have the cap space to sign a max level free agent or two. Will it be another hometown player, such as Paul George? What about a certain small forward from Cleveland? Too early to tell, but the 2017 NBA draft was the first step in the right direction for this iconic franchise.
Minnesota Timberwolves
The Timberwolves already have one of the most promising rosters in the league. Former rookie-of-the-year Karl Anthony-Towns is still getting better, and hopes to make his first all star team this coming year. Fellow ROY winner Andrew Wiggins has all the tools to become one of the best two-way wings in the league. With Ricky Rubio running the offense, this young Wolves team is poised to compete in the West very soon.
Minnesota expedited the process by pulling an absolute heist on draft night. For only Kris Dunn, Zach LaVine, and the seventh pick in the draft, the team acquired all star Jimmy Butler from the Chicago Bulls, along with the 13th pick. Reunited with head coach Tom Thibodeau, Butler looks to be the final piece in turning this team into a playoff contender. He's an ultra-competitive, elite defender with an alpha dog scoring mentality. Alongside Towns and Wiggins, they form one of the most talented trios in the league.
The Western Conference is currently going through a shift in the balance of power. Yes, the Warriors are the best team in the league. However, the other major contenders (Rockets, Clippers, Spurs) are all dealing with roster questions they will need to address in the coming off seasons. This will create an opening for other teams in the conference to move up and challenge the Warriors for supremacy. The Butler trade shows that Minnesota thinks they're ready to compete now.
Charlotte Hornets
Every draft class has a few players who outperform their expected output based on where they were drafted. Fans and GM's alike scratch their heads trying to figure out how so many teams passed up on these talents. Notable examples are Kawhi Leonard, Marc Gasol, and Draymond Green. A prime candidate from this years draft to continue this trend is University of Kentucky sharpshooter Malik Monk.
The modern NBA places a premium on three point shooters, and Monk was one of the elite shooters from this draft class. Yes, he's a little undersized, and doesn't look like an above average perimeter defender yet, but Kentucky players by and large tend to work out and have successful NBA careers. It's easy for players to be marginalized on a team with so many talented teammates, and there's a good chance we didn't get to see Monk's full skill set in coach Calipari's system. His shooting will be his biggest asset, but he's already shown glimpses of developing a more all around game, such as when he scored 47 points to beat eventual national champions UNC.
Charlotte made it clear they want to win now by trading for Dwight Howard. While his best days are behind him, Howard can still be the difference maker any given night. All star point guard Kemba Walker will be even more effective with Monk spacing out the court with his shooting, creating more driving lanes for his teammates. Monk has the tools to prove himself as the steal of the draft.
Dallas Mavericks
Speaking of steals, you know a draft class is deep when there's legitimate buzz that the ninth pick could end up being the best player in the class. Rick Carlisle claims that Dallas would have drafted North Carolina State point guard Dennis Smith Jr. with the first overall pick, and that could very well be true. Smith is oozing with potential, and might be the most explosive rookie in the league next season. Do not be surprised to see Smith be the Mavs' starting point guard on opening day.
Smith has the confidence to enter the league with the poise of a seasoned veteran. He'll make mistakes, but he'll also be one of the leading scorers in this rookie class. Carlisle is one of the best coaches in the league, and will know how to maximize Smith's talents and find out how to best utilize him with fellow young Mavericks Harrison Barnes and Nerlens Noel.
The Mavs are looking to contend in the final seasons of Dirk Nowitzki's hall of fame career. Expect last season to be an anomaly, as the team hopes to get Dirk back to the playoffs this coming year.
Phoenix Suns
The Suns already have their franchise guy in Devin Booker, along with several interesting pieces including Eric Bledsoe and Marquese Chriss. They hope to have gotten their next piece to the puzzle in University of Kansas standout Josh Jackson.
The league is filled with elite wing players, and teams won't be able to contend unless they can counter these premiere players with defensive stoppers. Jackson will provide defense, and then some. He's an over-aggressive defender with a great motor who will look forward to guarding the opposing team's best player any given night. Jackson's athleticism and high upside potential makes him a great complimentary player next to Booker and his lights out shooting. Additionally, his dunking ability makes him liable to bring the crowd into a frenzy whenever he gets the ball.
Something is brewing out in the desert. The Suns are a very young team looking to rejoin the company of the Western Conference elite. If Jackson can make an immediate impact and prove he was worth the fourth pick in the draft, expect this team to make that leap sooner rather than later.
Golden State Warriors
After an exciting 16-1 run through the 2017 NBA Playoffs en route to the title, it appeared Warrior fans would finally get a break from the action as their team held no picks in the 2017 NBA Draft. However, it was a bit naive to expect that GM Bob Myers and the Warriors front office, which built their team around the expert drafting of Stephen Curry, Klay Thompson, and Draymond Green, would sit on their hands on draft night. The Warriors were able to buy into the second round, acquiring the draft rights to Oregon forward Jordan Bell for $3.5M from the Chicago Bulls.
This pick earns the Warriors another "A" draft grade because Bell was a projected mid- first round talent who fell to the second round mainly due to questions about his scoring ability. However, anyone who watched Bell in either the Pac-12 tournament or NCAA Tournament run to the Final Four last March knows that Bell is a tenacious defender and rebounder. He won the 2016-17 Pac-12 Defensive Player of the Year award, averaging 1.3 steals and 2.3 blocks per game.
Jordan Bell will get a chance to rejoin his Oregon teammate Chris Boucher, who has agreed to a two-way NBA contract with the Warriors. In addition, Bell will have a chance to be mentored by one of the best core's in basketball. Draymond Green, another second round draft pick, is an idol for Bell and will look to help him continue to improve his defensive ability.
What are you waiting for? Catch these guys in action next season!
Though the draft is over, it is never too early to get excited about the next NBA season. The draft serves as a perfect opening to an exciting off season. Be sure to book a suite through Suite Experience Group to see your favorite young stars play live in the luxury of a private suite!