Minnesota Twins Suites
Target Field, Minneapolis, MN
Do you own a suite at this stadium?
Sell Your Twins Suite With Us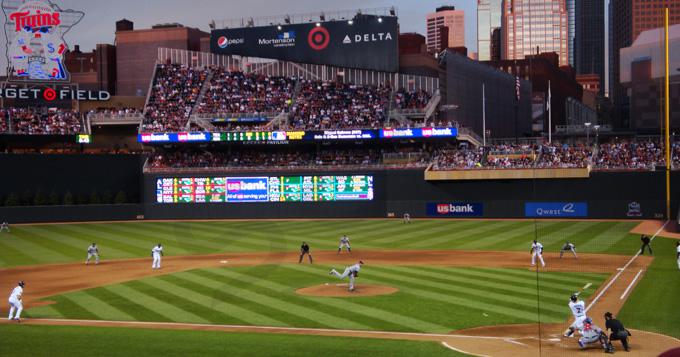 Suite Levels at Target Field
Premier Luxury Suite
Premier suites at Target Field accommodate groups of 16 people. This Twins suite is ideal for smaller groups. A Twins suite will feature HDTV, interior entertainment... MORE
Event Luxury Suite
Event suites at Target Field accommodate groups of 24-36 people. This Twins suite is ideal for larger groups. A Twins suite will feature HDTV, interior entertainment... MORE
Interested in one of these luxury suites?
Minnesota Twins Suite Prices
How much do Twins suites cost?
Prices typically range from $2,900-$6,000 for Minnesota Twins suites. Prices vary based on day of game, opponent, and the location of the suite. Suites at Target Field can accommodate groups 16-30 people. Luxury suite prices for concerts and other events at Target Field can vary widely based on the type of event.
Minnesota Twins Spotlight
The Minnesota Twins made history in 2017 when they became the first team in MLB history to make the postseason just one year after losing 100+ games. The Twins lost in the AL Wild Card Game, but it was still a season far better than perhaps even the Twins themselves could have ever dreamed of. They will look to build on last year's magical season and carry that success over to 2018.
Veteran Joe Mauer will enter his 15th season, all of which have come with Minnesota. Despite not producing the type of power scouts once thought he could, Mauer still gets on base at an excellent rate and rarely strikes out. If Brian Dozier hits at least 28 home runs in 2018, it will be his fourth consecutive year reaching that clip. The Twins second baseman has emerged as a lethal power threat in the middle of the lineup along with 2017 All-Star Miguel Sano. Sano is one of the most exciting young players in all of baseball, bringing electricity and power to the Twins lineup. In the outfield, Eddie Rosario, Byron Buxton, and Max Kepler all played key roles in last year's march to the postseason. Together they form one of the youngest and most entertaining outfields in the American League.
The starting rotation still has plenty of question marks, but there is room for improvement in 2018. Ervin Santana was phenomenal all of last season - it will be essential for him to replicate last year's success in 2018. Behind Santana, 23-year old Jose Berrios will look to build on a strong 2017 campaign, while improvement is needed from Kyle Gibson, Adalberto Mejia, and Phil Hughes. If Minnesota picks up a key arm during the season, watch out for the Twins.
Private suites at Target Field provide the perfect setting for business or for pleasure. On the Target Field Club Level, you can rent out Event Suites for groups of 24 – 30 guests. With a Twins suite, you will receive VIP parking passes, private entry into Target Field, a suite attendant to help on gameday and premium in-suite catering options. Luxury box prices for Twins games will vary on a game-by-game basis.