Minnesota Twins Suites
Target Field, Minneapolis, MN
Do you own a suite at this stadium?
Sell Your Twins Suite With Us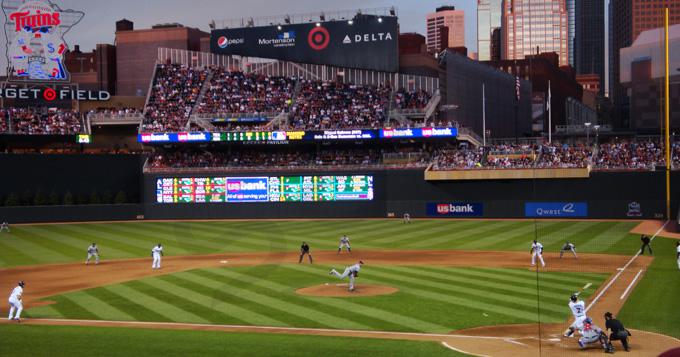 Suite Levels at Target Field
Premier Luxury Suite
Premier suites at Target Field accommodate groups of 16 people. This Twins suite is ideal for smaller groups. A Twins suite will feature HDTV, interior entertainment... MORE
Event Luxury Suite
Event suites at Target Field accommodate groups of 24-36 people. This Twins suite is ideal for larger groups. A Twins suite will feature HDTV, interior entertainment... MORE
Interested in one of these luxury suites?
Minnesota Twins Suite Prices
How much do Twins suites cost?
Prices typically range from $2,900-$6,000 for Minnesota Twins suites. Prices vary based on day of game, opponent, and the location of the suite. Suites at Target Field can accommodate groups 16-30 people. Luxury suite prices for concerts and other events at Target Field can vary widely based on the type of event.
Minnesota Twins Spotlight
Private suites at Target Field provide the perfect setting for business or for pleasure. On the Target Field Club Level, you can rent out Event Suites for groups of 24 – 30 guests. With a Twins suite, you will receive VIP parking passes, private entry into Target Field, a suite attendant to help on gameday and premium in-suite catering options. Suite prices for Twins games will vary on a game-by-game basis.
The 2017 Minnesota Twins could take a huge step forward in the American League Central. The Twins have a handful of young prospects who will be given an opportunity to succeed out of the gate. These players include Miguel Sano, Byron Buxton and Max Kepler.
Offensively, Brian Dozier is the bright spot in the lineup. Dozier set an American League record in 2016 with 42 home runs by a second baseman. While Sano didn't live up to expectations last year, he's getting another shot and has huge home run potential. Kepler as a rookie hit 17 home runs last season. Buxton is the player Twins fans have been waiting to break out. If Buxton can put it all together this year, the Twins will have a new leadoff man. Joe Mauer is still one of the game's best contact hitters and is a leader on this team. As far as the rest of the lineup, manager Paul Molitor will mix things up with Kennys Vargas, Eddie Rosario, Jason Castro, Byung ho Park and Jorge Polanco.
The pitching staff will look to improve in 2017. The bullpen will be anchored by new closer Brandon Kintzler who took over after Glen Perkins went down with an injury last season. The rotation will feature Ervin Santana, Hector Santiago, Kyle Gibson, Phil Hughes, Tyler Duffey and Jose Berrios. The Twins are expecting Berrios to take a big leap forward after his first opportunity in the big leagues last year. Waiting in the minors is Adalberto Mejia.