There's no sugar-coating it, Dallas Cowboys suites are one of the most expensive ways to entertain a large group at AT&T Stadium. But for companies looking to conduct business or reward their clients a suite at a Cowboys game can be well worth the price as it fosters unforgettable memories and solidifies relationships.
Are you looking to get the best value on a Cowboys suite?  This article details all the suite options available at AT&T Stadium and provides recommendations on which suite to choose to meet your group's needs.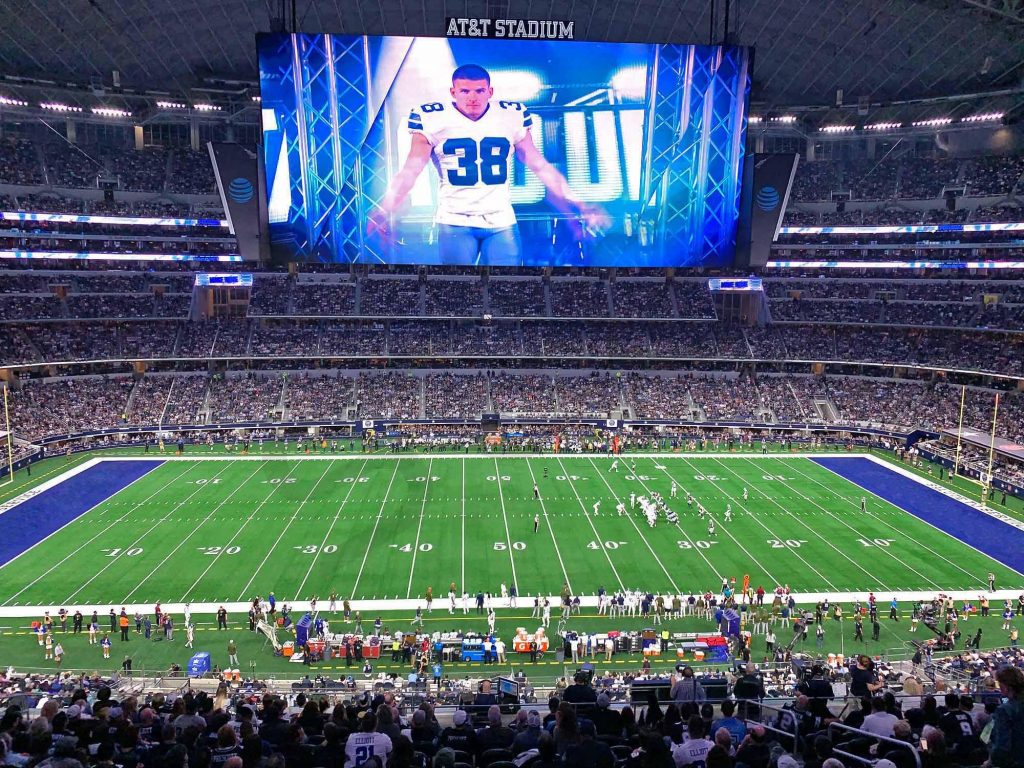 There are five levels of suites at AT&T Stadium. From closest to the field to the highest up: you have the Field Level being the lowest, the Hall of Fame(200 Level), Silver(400 Level), Ring of Honor(500 Level) and Star(600 Level).
In Suite Experience Group's 11 years of selling suites at AT&T Stadium, we find that the Silver Level consistently delivers the best value to customers looking to blend a great view of the field while staying within a mid-range suite budget.  The highest in-demand suites are the Hall of Fame suites, however, Cowboys suites on the Hall of Fame Level are above most budgets. The next level up will be the Silver Suites. Most AT&T Stadium suites are similar in space and layouts. The Silver Level suites will have a private restroom, comfortable balcony seating, a full kitchen, wet bar and lounge space inside the suite. Silver Suites on average are about $5,000 – $10,000 less expensive than a Hall of Fame suite. Guests on the Silver Level are at eye level with the jumbo screen over the field and have a perfect non-obstructed view to the entire game. All Silver Suite ticketholders have exclusive access to the Silver Club, Main Club and the 4 VIP suite entrances into AT&T Stadium.
Field, Ring of Honor and Star suites will typically be less expensive than the suites on the Silver Level. Field Level provide a once-in-a-lifetime experience but at the cost of having an obstructed view to the game. If you're really looking for that "wow factor" of being as close as possible to the action, choose at Field Suite.  Ring of Honor suites are directly above the Silver Level but with the cost of these usually only being $1,000 – $2,000 less than a Silver Suite, our clients prefer to be closer to the field.  Star suites are directly above the Ring of Honor, so being that high up is not always preferred. However, every suite is designed with first-class amenities in mind. So, despite the cost, you're getting an amazing suite regardless of where you are in the stadium.
To view pricing on Silver Suites or any Cowboys suite, please see our AT&T Stadium Suite Pricing by game.