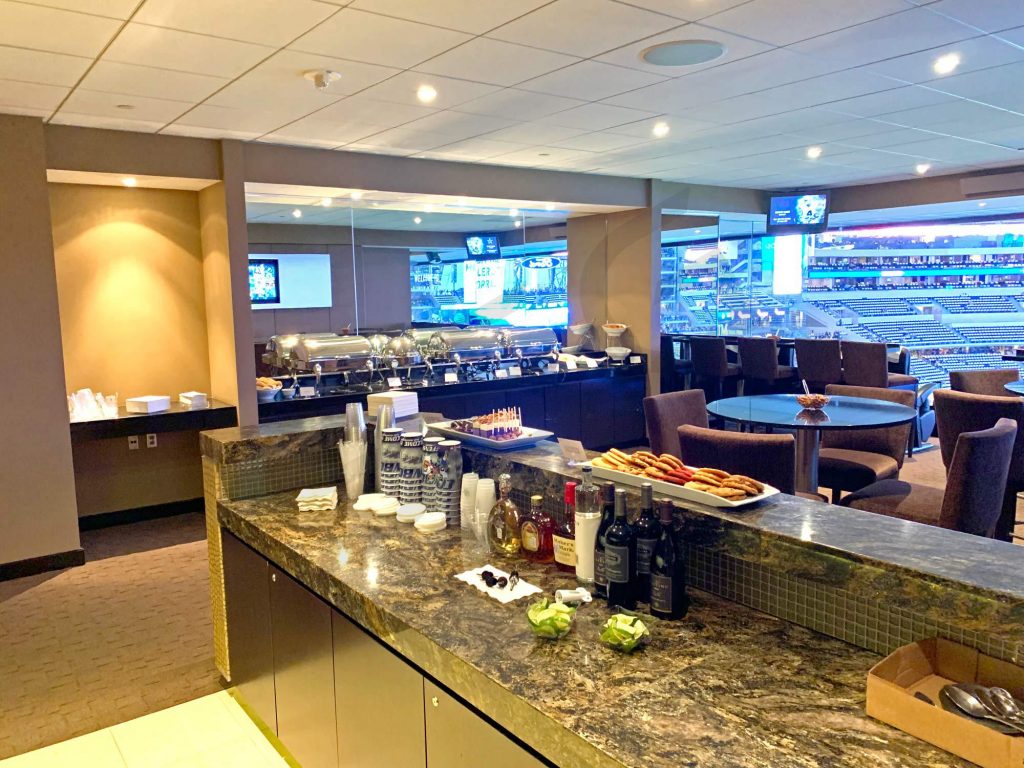 It isn't an accident that the Dallas Cowboys luxury suite experience has garnered worldwide acclaim on the sporting event bucket-list.  And one of the things that makes AT&T Stadium luxury suites so special is the top-notch culinary experience.  Not only can you order in-suite catering in advance, you'll have complete control and be able to customize your order using Legends Hospitality's 50-plus page AT&T Stadium luxury suite menu. From finger foods to full entrees, hand-pick what you think your group likes best. Cowboys suites are designed with plenty of room to provide space for a large buffet. A full-sized refrigerator and wet bar can be stocked with your favorite beverages and dessert can be rolled in during the second half. Ordering food and drinks for your entire party can be a challenge or even stressful for corporate planners. So, here are some of the most common questions that Suite Experience Group customers ask about Cowboys catering:
Can I bring food and beverage into AT&T Stadium?
Unfortunately, no. You'll order in advance with the help of your dedicated SEG representative or from your Cowboys suite attendant upon your arrival. The advance menu will include more options, so it's recommended you order ahead of time.
What if one of the suite guests has dietary restrictions?
The Cowboys offer an arrangement of vegan or vegetarian options, as well as many gluten-free dishes. Legends catering team can also help with any kosher needs.
How much does Cowboys catering cost?
You will order at your own discretion, meaning it can be as much or little as you want it to be. On average, SEG recommends budgeting about $115 per person for a full buffet spread and alcohol. So, if you have a 20-person suite for an upcoming Cowboys game, plan on spending between $2,000 – $3,000 for your catering. This charge won't occur until gameday, separate from your suite purchase.
Do the Cowboys require a catering minimum?
No, you are under no obligation to purchase food or beverage in advance for an AT&T Stadium suite. All food items are served to feed 8-20 guests, depending on the dish. Bottled water and soft drinks come in packs of 8 and beer will be by the 12-pack. Wine or liquor will be by the bottle while mixers and juice can vary in quantity. If your group opts for no food and just drinks, that's ok too.  You can always order from the 'game-day' menu during your event.
Do any suites include catering in the price of the suite? If not, can we order an all-inclusive food package with an open bar?
AT&T Stadium has over 300 suites in the building but a very limited number of suites will include catering in the cost of the suite. The suites that offer all-inclusive catering are located on each sideline on the Hall of Fame suite level (Note: not all Hall of Fame suites have access). The Optum Club on the visitor sideline is an all-inclusive private club where suite ticketholders have unlimited access to food and drinks, including alcohol. On the home sideline, the Owner's Club will offer a similar experience. Both are clubs offer an assortment of high-end options, good enough for even Jerry Jones who has his suite within the Owner's Club. To see availability and pricing for an all-inclusive Hall of Fame suite, you can visit our site Dallas Cowboys Suite Rentals. Catering for all other suites in AT&T Stadium will be an additional cost. Unfortunately, an open bar or an all-inclusive food package are not offered in any suite.
For more questions regarding in-suite catering at AT&T Stadium or additional details on Cowboys suites, please visit Luxury Suites at AT&T Stadium.