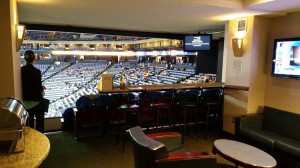 The Golden State Warriors advance to the NBA Finals, a goal the team hasn't reached since 1975. The Warriors defeated the Houston Rockets in 5 games to be crowned Western Conference champions. Next up for the Warriors will be the Cleveland Cavaliers. LeBron James and company will head to Oracle Arena on June 4 for game one of the NBA Finals. This is James' 5th straight finals appearance. With the MVP Stephen Curry facing off against a former MVP in James, the NBA couldn't be happier with the matchup. James and Curry are the two most popular players in the NBA. They finished 1 and 2 in All-Star voting and finished 1 and 2 in jersey sales. In the regular season, the Warriors and Cavaliers split the two games they played against one another. The Warriors hope Klay Thompson can bounce back after he got a knee to the head in game 5 of the Western Conference finals. When Thompson was forced to leave the game, Harrison Barnes stepped up big. Draymond Green and Andrew Bogut are two of the best defenders in the league and will have a tough task keeping James out of the lane.
While the conference title is the biggest accomplishment by the Warriors in four decades, the team has four more wins to go. Rookie head coach Steve Kerr will get a week to prep for his toughest task yet.
This is your chance to watch San Francisco Bay Area history at the "Roaracle". A private luxury suite will give fans the ultimate VIP experience on the biggest stage in the NBA. A Warriors suite will feature interior lounge seating, exterior premium seating, in-suite catering, private restrooms and a dedicated suite attendant. With your suite at Oracle arena you will also receive VIP parking passes, enter the arena through a private entrance and get exclusive access to the Warriors VIP clubs inside. Don't miss out on the most exciting action to come.
If you're interested in a Warriors suite for the 2015 NBA Finals, click here!
NBA Finals Schedule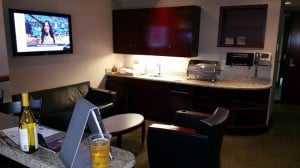 Game 1: Thur., June 4 at Oracle Arena
Game 2: Sun., June 7 at Oracle Arena
Game 3: Tue., June 9 at Quicken Loans Arena
Game 4: Thur., June 11 at Quicken Loans Arena
Game 5: Sun., June 14 at Oracle Arena
Game 6: Tue., June 16 at Quicken Loans Arena
Game 7: Fri., June 19 at Oracle Arena